Merry Christmas, and Happy Holidays!
Do you know that in Australia, it is summer time during the Christmas holidays?  That's so strange for me, after having spent most of my life with Christmastime being in the middle of a cold, snowy winter.   But yep!  Down under, right now, it's very very summer time!  Even so, it's time for a happy Aussie Christmas!
Just for fun — I want to share a few pictures that show the fun side of an Australian Christmas holiday.  It's sooooo different from the way the holidays are celebrated in the Northern Hemisphere.
Besides, Santa has already been here today!  It's still Christmas Eve in the USA and Canada and the UK, etc, but here in Australia and New Zealand, Santa has already been around!   And we all have had a lot of fun being with Santa today.
So you want to see some pictures of what Santa did down here in Australia today?
Santa had a LOT of fun!
Here are some holiday images that may be very very new to you.  I bet you didn't know Santa did all these things!
Enjoy!
Here's Santa on his train going all around Australia!
Sometimes it's a little too hot for the reindeer, so Santa gave them a little rest and took the train for a little while.  
Here's Santa cooking lunch at an Aussie barbeque with koalas, a kangaroo, a kookaburra, and a platypus!
And here's Santa having some fun going surfing!  woooooo!  Have fun, Santa!
And here is Santa playing cricket on the beach. 
Do you see all the kangaroos and koalas and the cockatoo playing too?
Have you ever played cricket?  Cricket is a game that is a little tiny bit like baseball and it's lots of fun!
And instead of making a snowman, down in Australia, they made a SANDMAN!   
Isn't that fun?!!
How about playing in the outback — again, Santa is out with koalas and kangaroos!
Do you see the echidna and the platypus in this picture?  I like that the koalas are dancing!
And when Santa was tired, he had a rest on the beach. 
So don't worry, kids.   Santa will still have plenty of energy to come visit your house too!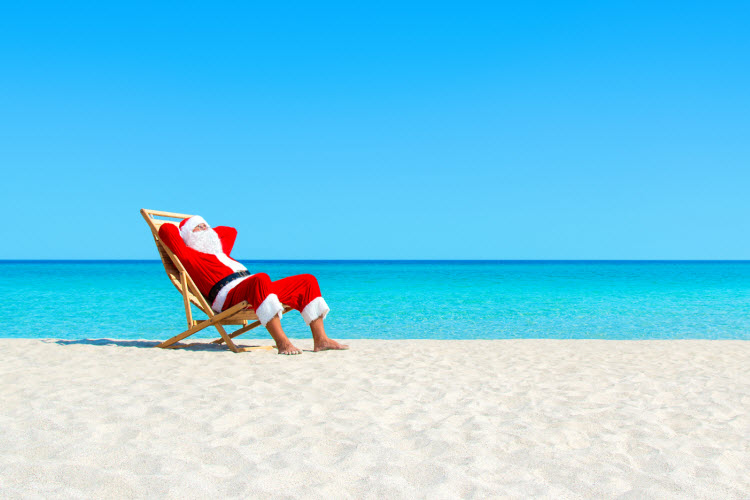 I hope you are having a really good day and evening…. please do something fun!
Wishing lots and lots of happy holiday memories to you!
Warmly, 
Kathy
Copyright © 2008-2020 Kathy Broady MSW and Discussing Dissociation